***BREAKING*** DR. FRIZZELL TO RETIRE AT SCHOOL YEAR END
This article was published on: 03/15/16 2:59 AM by Mike Minarsky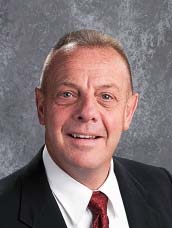 Tonight was a bittersweet evening at the Griswold Board of Education meeting inside the media center at Griswold Middle School.  The meeting started off like any other with the Pledge of Allegiance, accepting donations, and talking about the pending school budget for the next fiscal year.
The next order of business was the submitted resignation and subsequent retirement of Dr. Mark Frizzell, long time Principal at Griswold High School.  In reality it was almost the worst kept secret in town since it was almost common knowledge that retirement was eminent once his son graduated from the school.  His son, Trevor, is a senior at GHS.
Board of Education Chairperson, Atty Stuart Norman accepted Dr. Frizzell's resignation…. With regret.