Boys High School Basketball – Griswold Defeats Plainfield 65-58
This article was published on: 01/8/20 4:42 AM by Mike Minarsky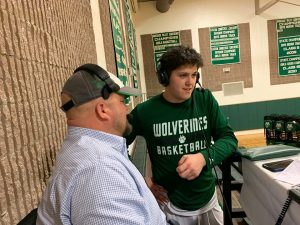 No matter what sport, no matter what year, when Griswold and Plainfield get together, it's going to be exciting.  These perennial rivals went at it tonight on the basketball court in Griswold on Tuesday night, and it was just that.  It wasn't a runaway, it wasn't a slaughter.  It hardly ever is when these teams play.
Griswold came out strong right off the bat with CJ Mattson hitting his first of 3, 3 pointers within the first 30 seconds of the game.  Griswold also got to the free stripe a lot in the first, hitting 8/10 (Sims/Koziol 4 each)  But, Plainfield kept it close with 5 points from Jalen Arriaga and 6 points from Connor Abram in the 1st quarter alone, Griswold 25 Plainfield 20 after 1.
The Wolverine defense was a bit too much for the Panthers in the 2nd as they were held to just 8 points, and Griswold widened their lead outscoring Plainfield 19-8.  Griswold led at the half, 44-28
Plainfield has seemingly been a 2nd half team during the early season with closing a big deficit to Killingly last week cutting a 25 point lead to 9 in the 3rd while eventually falling to Killingly.  Same thing for the Panthers tonight as they constantly chipped away at the Wolverine lead to get it down to 7 at one point with Jalen Arriaga and Jayden Fort coming up big Arriaga hitting a couple of clutch 3 point baskets late in the game, outscoring the Wolverines 14-9 in the 4th.  However it was a little too late as the Wolverines held on to a slim 7 point lead for the win.
Griswold Player of the Game –  Mike Sims, 11 points and tough tough play on defense.
Plainfield Player of the Game – Jalen Arriaga, 14 points including 3 3 pointers, and seemed to be involved in every play of the game for the Panthers.  Ted Koziol on color commentary tonight said he was just a good scrappy player with some good instinct.