Bomb Threat Diffused At Lisbon Landing
This article was published on: 06/2/20 9:16 PM by Mike Minarsky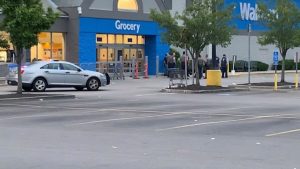 After 6 PM on June 2, 2020, a bomb threat was called into Connecticut State Police for Walmart at Lisbon Landing.  Roughly 15 Connecticut State Troopers all converged on the call and the scene was secured including the entrance to the entire shopping center.  It was rumored that the entire Lisbon Landing shopping center was evacuated but that wasn't the case as employees were still present at Home Depot in the same shopping center.
State Police did give the all clear at approximately 7:15 tonight with no bomb found.  Bomb sniffing dogs were also not utilized.  Walmart, which closes every night now during the COVID-19 crisis remained closed for the rest of the evening and did not re-open.
There was some confusion as to what Walmart had closed today.  The Norwich location did close today due to protests being scheduled which turned out to be peaceful earlier on in the day.