Board of Finance Looking To Find Answers To Education Funding Cuts
This article was published on: 12/21/17 10:33 PM by Mike Minarsky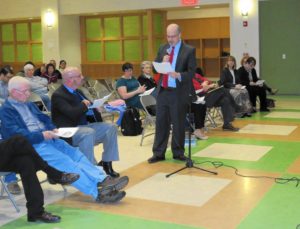 On Tuesday night the Griswold Board of Finace held their final meeting for the year. The main topic of the meeting was the impact the state budget cuts will have on the Board of Education budget cuts. The cuts will result in the Griswold Board of Education losing $917,000 dollars in funding. So, the Board of Finance has been trying to find a solution to this budget problem.
A plan that was discussed was the sale of a house the town owns on Lake Road which should bring a minimum of $52,000 dollars to the town. Also, a solar farm is set to begin construction in the town of Griswold in February which will pay the town about $250,000 dollars.
First Selectman Todd Babbitt, proposed a plan to cut the town budget by $161,800 dollars. Sean McKenna also had a plan for budget cuts. His plan cut $287,000 dollars from the education budget. When combined, the plans by Sean McKenna and Todd Babbitt result in $448,800 dollars in cuts, that is about 50 percent of the cuts needed to balance the budget. $470,924 dollars needs to still be cut from the budget. The consensus between the Board members was that the remaining 50 percent of the money needed would come out of surplus, and then with the sale of the house on Lake Road and the solar farm that is set to begin construction would hopefully equal the money taken out of surplus. The money from the sale of the house and the construction of the solar farm would go back into surplus.
Now, the Board of Finance believes that solution will work this year but, the members believe more cuts will be coming down from the state. The board will continue discussion on the Board of Education cuts at their next meeting on Tuesday, January, 16, 2018 at the Town Hall.[adrotate banner="27"]