Bears Awake while Wolverines Hibernate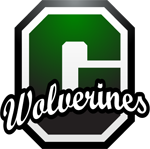 It wasn't a pretty game as the Griswold Wolverines who were coming into tonight's game riding a 2 game winning streak with wins over CREC Co-Op and Woodstock Academy last Saturday figuratively didn't show up Friday night for it's game against Stonington as the Bears win big 42-6
The first half was played with a lot of bumbles as there were 4 fumbles in the first half alone, in which the Wolverines recovered 3.  That was the highlight of the game for Griswold as they found themselves down 35-0 at the half.
The 2nd half saw the clock run without stoppage when Stonington went up 42-0 in the 3rd.  In High School Football, if one team is up by 42 points in the 3rd or 35 points in the 4th, the clock will continue to run until the games is over and will not stop unless there is an injury timeout.  If a team is leading by 50, the game ends due to mercy rules.
The Wolverines did get on the board as Andrew Koziol connected with Devaughn Luty for the Wolverines only touchdown of the game.  The Wolverines have a BYE next week and finish the season with Plainfield for the annual Thanksgiving Day game.  Griswold goes into this years contest having won the last 13 meetings with Plainfield.  The game will be carried on Wolverine Radio.
Clothing Best sellers