Arremony's Quality Bakery – The End of an ERA in the Borough
This article was published on: 11/14/15 9:00 PM by Mike Minarsky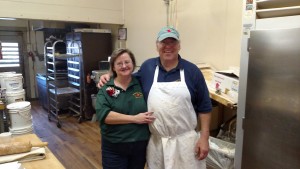 Who knew what the response would be today, 55 years later as they opened up for the last time on Main st here in Jewett City.  I will spare you all the details of this, that and the other thing.  We all know that Phil, or as his friends and wife Karen call him, Dooley, was ready to close up shop.  I'm actually going to take the high road on this…
As I walked into Arremony's one last time, I started talking to some of the family members and there was one coefficient with everyone that was in front of the store.  Everyone had a smile on their face i think due to obvious happiness and some relief as well.  As I walked around the counter to go into the back of the bakery, I saw an old friend, Darrin Arremony, who quickly came up to me and greeted me with a big hug.  I lived in the same neighborhood as the Arremony's.  "You remember getting me into the CB radio back when we were kids?"  That's the first question that I was asked.  I told Darrin that of course I did, we ended up with almost the entire neighborhood of kids involved.  The irony was that I wasn't asked the obvious questions.  "What do you think?"  "How is the town reacting?"  The reason why was the family was completely content with the decision that had been made.  All Darrin said was, "It was time."
When I finally made my way over to Dooley, he was all smiles and looked like a huge weight the size of the Empire State Building had been lifted off of him.  We had some small talk, spoke with his wife Karen for a few moments and saw the 5 final pastries that didn't make it out on the shelves for the final day of business.  Then it was time to leave the family and be one less person to get in the way of a moment they were hoping to have after 55 years.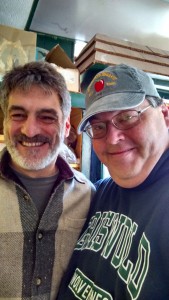 Everyone in town has their own emotional connection to Arremony's.  Some loved the cinnamon sticks, other the whoopie and fry pies.  How about the countless of birthday, wedding, or anniversary cakes that we all have had over the years at least a few times. Mine was something different.  As a kid, it was a reward for me to church on Sunday's.  I didn't want to go, but if Dad promised Arremony's, I was in the car quicker than he was.  It also served another purpose for me.  I got to see my old friend Darrin again.  If the bakery hadn't closed, maybe I would have never seen him again.  After all, he had moved to NYC to work for Major League Baseball.  So it may be a selfish reason and one that I didn't think of.  But in the end, I'm glad it closed.  Will they miss it?  Will the patrons miss it?  Will I miss it?  Sure..  But, if they hadn't decided this fate, who knows if I would have got to see my old friend and his wife who I had never met until today.
Thanks for all the delicious stuff that i have eaten there (and the coffee was pretty good to), but most of all, thanks for closing.  We all have our reasons.