Man Arrested on Jewett City Street Corner for being Completely Naked
This article was published on: 10/5/16 5:25 PM by Mike Minarsky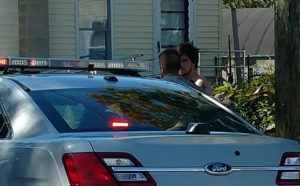 An unidentified male was arrested on the corner of Mechanic St just after 1pm for being completely naked.  At first it was reported that the man was sleeping naked next to a telephone pole.  Residents started to form on the sidewalks trying to figure out what the man was doing.  The man  awoke and without word or paying attention to any of the bystanders, continued to stay, simply leaning on the telephone pole.  Some of the bystanders offered the man clothing but they were ignored.
Connecticut State Police were dispatched to the scene where they quickly took control.  The unidentified male was taken away assumably for charges of indecent exposure.
None of the residents appeared to know who the nude neighborhood man was and there were no children in the vicinity.