Connecticut State Police Holds 47th D.A.R.E. Officer Training Graduation
This article was published on: 08/17/18 9:32 PM by Mike Minarsky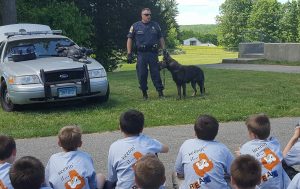 On Friday, August 17, 2018, 37 new Drug Awareness Resistance Education (D.A.R.E.) Officers graduate from the D.A.R.E. Officer Training program after spending two weeks learning how to become D.A.R.E. officers in the elementary schools in their community.
The class consists of 12 Connecticut State Troopers, 17 Connecticut police officers, 1 military police officer and seven out of state police officers from Massachusetts, New York, Rhode Island, Vermont, Pennsylvania and Indiana. Seven D.A.R.E certified mentors and one Connecticut teacher assisted the candidates in becoming certified D.A.R.E officers.
D.A.R.E. is an education program that seeks to prevent the use of controlled drugs and violent behavior in children. It was founded in Los Angeles in 1983.