19 Year Old Moosup Man Crashes Motorcycle into stone wall then taken via Lifestar to the hospital
This article was published on: 08/3/16 11:01 AM by Mike Minarsky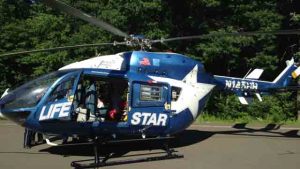 On July 2, 2016 at approximately 10:26 PM, Officers from the Plainfield Police Department responded to a motorcycle accident with injuries on Sterling Hill Road in the area of New Road in the Moosup section of Plainfield, CT. Patrick Garrett (w/m Dob 12/22/1996) of 105 Squaw Rock Road, Moosup, was operating unregistered dirt bike on the roadway at the time of the accident. Garrett subsequently lost control of the motorcycle and traveled off the roadway colliding into a portion of a stone wall. Garrett was ejected from the motorcycle and later located in the roadway by a passerby who called 911.
Garrett was subsequently transported to Backus Hospital in Norwich CT and was later flown via Lifestar to Hartford Hospital to treat his injuries.
This accident remains under investigation.