11 Year Old Norwich Girl Giving Her Heart(s) While Spreading Love and Kindness In Jewett City / Griswold
This article was published on: 04/6/20 12:10 PM by Mike Minarsky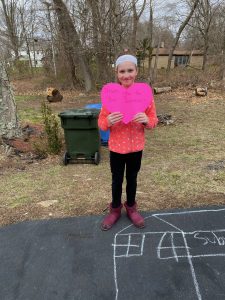 Here at SNSN Radio we are trying to bring out as much positive news as possible these days with what is happening with the effects of the Coronavirus.
Families are hunkered down in place since the "Stay Home, Stay Safe initiative was set forward by Governor Ned Lamont. Almost every business is closed to the public forcing people to work from home when available and taking a ride and driving through some shopping center parking lots, or should I say most. However, what I have seen is that it's a great opportunity for people to take their remote control cars are drive in a very very open area.
However, no matter what is going on in the world, no matter what the message of doom and gloom is, there are always, thankfully, that will turn a negative into a positive, and those gentle pure thoughts mainly come from children.
Take 11 year old Ava Geer of Norwich for example. Ava started making hearts out of construction paper and with the help of her mother, writing different "thank you" messages. She's also painting rocks as well for people to get a good positive message from. They aren't just taking up space at her home. She's given them to her Grandfather, Al Geer of Jewett City to place in a prominent spot. So far about 20 have been delivered for local businesses to display, along with her carefully painted stones, just to put a smile on your face. According to Al Geer, there are still more that have to be delivered.
If you visit a business in Jewett City or Griswold, and you see a red heart on the window saying "Thank you for your service" it's just 11 year old Ava Geer telling you that it's all going to be ok. If only we listened to the children more…..